Check out what current and former patients have to say about their amazing experiences working with Dr. Dino Del Mastro, Dr. Arica Roetemeyer, Dr. Haydon Stanley and Dr. Myra Amparo.
If you'd like to schedule an appointment after reading the reviews, just click here.
---
COVID-19 has had a number of impacts on my life. I am immunocompromised, so we have been in quarantine since early March to limit my exposure to the virus. One thing I have continued — my visits to Dr. Dino. The online booking site makes it super easy to schedule an early morning appointment. I've been booking 7 am appointments, which make me the first patient in the office that morning.
Dr. Dino has always taken steps to protect my health. He always begins each visit by washing and sanitizing his hands and applying fresh paper to the table; he always concludes visits by sanitizing the table and any materials he uses with me, then washes his hands once more. With COVID-19, Dr. Dino has added additional steps to ensure patient safety. He is always wearing a surgical mask, his visits are spaced out so that there are no overlapping patients, and he allows enough time between patients so that his prior patient's visit is complete, and they've left before I arrive for my visit. All of these steps make me feel incredibly comfortable about continuing my visits as I have in the past.
— Melanie E.
---
Dr. Arica Roetemeyer is soooo good. I have lots of hip/joint problems during pregnancy, and she always knows exactly how to help. Pregnant mamas with joint pain, look no further!
— Camille L.
---
Highly recommend Dr. Hayden for treatment. I'm in construction and like to workout after work so my body practically gets no rest. Have been seeing him for tendonitis in my elbow and that has all but disappeared. I recently reinjured an old knee problem, and Dr. Hayden has been sweating (literally) his butt off treating it to get me back to being my normal self. I'm very strict at the treatments and follow his instructions to a T 'cause I need to be able to work with no pain, and I hate missing workouts. Definitely go see Dr. Hayden!
— Danny S.
---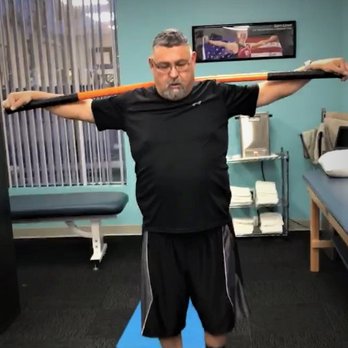 Dr. Dino is simply THE BEST! I have been going to Dr. Dino for over eight years. He has helped me and my family with back and knee pain issues and has helped me strengthen my back, knees, and core.
Dr. Dino's facility is safe, and he is taking all the proper precautions to make me feel safe and comfortable as I continue treatment. Five stars for Dr. Dino! My family and I appreciate Dr. Dino's care, enthusiasm, flexible schedule, and knowledge! I highly recommend Dr. Dino and his team!!!
— Robert B.
---
Haydon is AMAZING! I came in with back pain that I neglected for 4 years. I noticed a huge difference just after the first two sessions with him. He listens to your needs and is extremely professional and educated in his field. Highly highly recommend!
— Lexie L.
---
Dr. Arica Roetemeyer is amazing !!! I've been seeing her for well over a year and would recommend her to anyone needing a chiropractor. She doesn't just do an adjustment, but really analyzes how it happened, why it happened and what we need to do to strengthen yourself to prevent it from happening again. She does the adjustment, soft tissue work and even shows you stretches and exercises that you should be doing on your own. She's easy to talk to and has a great personality. She always greets you with a genuine smile. Even though the office doesn't take insurance, I have no problems with paying out of pocket to see her. It's worth every cent.
— K.K.
---
This is by far the best physical therapy/chiropractic service I have received. My husband and me have been going to Dr. Dino since last year and there has been tremendous improvement with our back pain issues. The stretches he recommends and the work he does on the muscles help a lot. He is very practical and advises exactly what is required. Above all, he as well as Olivia are really nice and easy to work with. I have been to many chiropractors before, but this one the best so far. I would highly recommend Dr. Dino for any physical pain treatment.
— Shilpa K.
---